{[['
']]}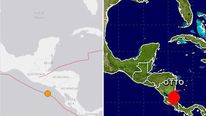 An earthquake of magnitude 7 has hit the Pacific coast as a hurricane ravages Central America from the Caribbean.
The US Pacific Tsunami Warning Center issued an alert after the tremor struck about 75 miles (120km) off the coast of El Salvador.
It said waves of up to a metre were possible on the coasts of Nicaragua and El Salvador before later saying the risk o
f waves had passed.
Emergency services in El Salvador told those living along the country's Pacific coast to withdraw up to 1km (0.62 mile) away from the shore.
The quake was said to be shallow, something which is believed to amplify the effect.
El Salvador's emergency services ordered evacuations of communities living on the Pacific coast following the quake.
Thousands have been living in temporary shelters after being evacuated away from eastern coastal areas of Nicaragua ahead of the category 2 hurricane Otto slamming into the Caribbean coastline on Thursday morning.
Otto, the seventh Atlantic hurricane of the season, made landfall north of the town of San Juan de Nicaragua, the National Hurricane Center (NHC) said.
Winds of up to 110mph were expected as the hurricane headed across southern Nicaragua and northern Costa Rica throughout Thursday.
Storm surges and large waves were forecast to raise water levels by up to 6ft (1.80m).