{[['
']]}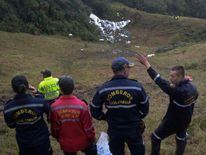 Officials say the number of people killed in a plane crash in Colombia is fewer than previously thought, as four passengers on the flight list were not on board.
Search and rescue teams now say 71 people were killed after a plane carrying members of a Brazilian football team crashed following an electrical fault.
Six others, including three players, survived the impact after the charter aircraft came down in a mountainous area as it approached Colombia's second-largest city, Medellin.
Dozens of bodies have been taken from the crash site in military helicopters, and rescuers have been searching through pieces of the plane's fuselage on the muddy mountainside.
The plane, which departed from Santa Cruz in Bolivia, had been carrying the
Chapecoense football team,
based in Chapeco in southern Brazil.
Both recorders from the plane have been recovered "in perfect condition", which will likely help investigators determine the exact cause of the crash.
Chapecoense were heading to Colombia for the biggest game in the club's history.
The three other survivors were journalist Rafael Valmorbida, air stewardess Ximena Suarez and flight technician Erwin Tumiri.
Brazilian president Michel Temer said military planes have been made available for victims' relatives to travel to Colombia and for the transfer of the bodies back home.
"We are waiting for lab results and X-rays to make a decision and do a (surgical) procedure."
Atletico Nacional, which was due to play the team on board, has asked South America's soccer federation to award the Copa Sudamericana title to Chapecoense in light of the tragedy.
In a statement on its Facebook page, the club said: "May God accompany our athletes, officials, journalists and other guests travelling with our delegation."
Club vice president Ivan Tozzo told cable channel SporTV: "We are very sad, gathered here in the locker room of our stadium.
"Chapecoense is the biggest reason for joy here."
A Chapecoense player who has been sidelined through injury and was not on the flight, Alejandro Martinuccio, said: "I feel profound sadness.
"The only thing I can ask is prayers for the companions who were on the flight."
The president of Brazil, Michel Temer, has declared three days of mourning.
"I express my solidarity in this sad hour during which tragedy has beset dozens of Brazilian families," he said.
"The government will do all it can to alleviate the pain of the friends and family of sport and national journalism."
FIFA President Gianni Infantino said in a statement: "This is a very, very sad day for football.
"At this difficult time our thoughts are with the victims, their families and friends."
Manchester United goalkeeper David De Gea tweeted: "Deeply affected by Medellin's plane crash. I shared locker with (Chapecoense player) Cleber Santana and it's difficult to reveal how I feel. A huge hug."
Barcelona and Real Madrid each held a minute's silence at their training sessions on Tuesday.
The South American football federation has suspended all games following the news from Colombia.