{[['
']]}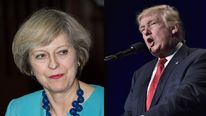 Theresa May and US President-elect Donald Trump have agreed they should work to build relationships and meet as soon as possible.
During a telephone conversation on Tuesday, the Prime Minister and Mr Trump talked about how his transition plans were progressing.
They also agreed on the importance of NATO and on the need for members to meet the target of spending 2% of national income on defence.
Britain already meets that commitment, but Mr Trump has repeatedly complained about others falling short.
A Downing Street statement said: "The Prime Minister called the US President-elect this afternoon as part of establishing a regular dialogue between both of them.
"They agreed their teams should continue to build close relationships through this period, including with a meeting of their national security advisers in the United States before Christmas.

Britain has long cherished its "special relationship" with the US, but there has been speculation about how ties would evolve after a series of perceived snubs from Mr Trump.
Following his election, Mr Trump spoke to nine other world leaders before he spoke to Mrs May.
He also suggested last week that Nigel Farage would make a good British ambassador to the US.

He announced on Monday he has picked Tom Price, a strong critic of President Obama's healthcare reforms, to be his future health secretary.
The 62-year-old Georgia congressman and orthopaedic surgeon chairs the House of Representatives budget committee.
He said he will work to ensure a healthcare system based on "sensible rules".
It is also believed he has chosen Elaine Chao to become transportation secretary.
The 63-year-old was labour secretary under President George W Bush and the first Asian-American woman to serve in a president's Cabinet.