{[['
']]}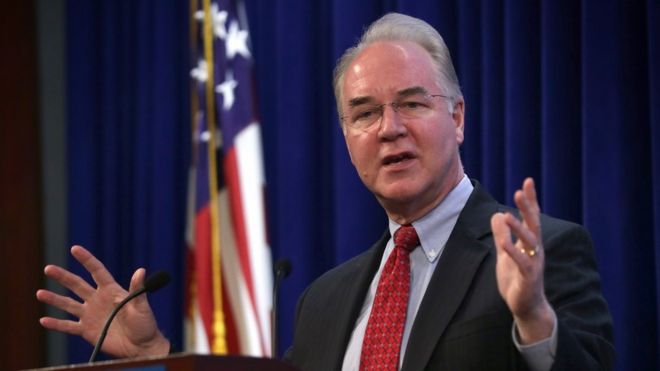 Donald Trump has named Tom Price as health secretary and reportedly plans to pick ex-Labor Secretary Elaine Chao as his transportation secretary.
Mr Price, a Georgia lawmaker, has been a vociferous critic of President Obama's signature healthcare reforms.
Ms Chao, the wife of Senate Majority Leader Mitch McConnell, served in President George W Bush's cabinet.
US President-elect Trump is still weighing his options in filling the posts of state, defence and treasury.
Ms Chao, who was born in Taiwan, became the first Asian-American woman to hold a position in a presidential cabinet when she led the Labor Department under President Bush from 2001-09.
The 63-year-old also served as deputy secretary of transportation and director of the Peace Corps in former President George HW Bush's administration.
If confirmed by the Senate, Ms Chao would become the second person to hold the positions of labor secretary, transportation secretary and the spouse of a Senate majority leader.
Elizabeth Dole previously held that title.
Ms Chao will play a crucial role under Mr Trump, who has vowed to make infrastructure spending on the country's roads, bridges and other public transit an integral part of his agenda.
She came to the US with her family at the age of eight and settled in New York, where her father became a shipping magnate.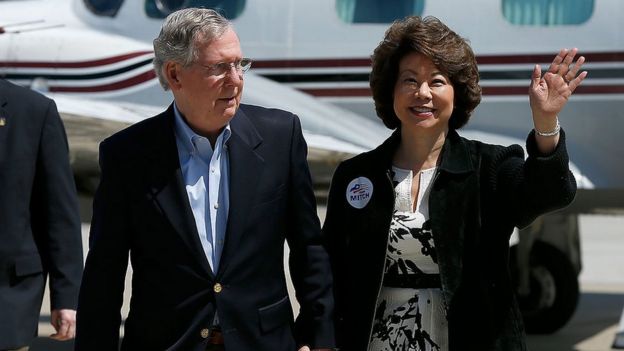 Image copyright
Getty Images
Image caption
Mr Price, a 62-year-old congressman and orthopaedic surgeon, serves as the chairman of the House of Representatives budget committee.
The Georgia congressman has fiercely opposed the Affordable Healthcare Act, considered Mr Obama's flagship measure, and is expected to play a key role in dismantling the law.
In his campaign, Mr Trump vowed to repeal and replace the act, but has since said he favours keeping certain provisions.
Mr Trump said Mr Price was a "tireless problem solver" and "the go-to expert on healthcare policy".
"He is exceptionally qualified to shepherd our commitment to repeal and replace Obamacare and bring affordable and accessible healthcare to every American," Mr Trump said in a statement.
Trump: Obamacare key provisions to remain
Why is Obamacare so controversial?
Your Trump questions answered
Mr Price said he was looking forward to the opportunity of serving as health secretary on behalf of the American people.
He said his aim was to create a new system that worked for patients, families and doctors, adding that it should "protect the well-being of the country while embracing its innovative spirit".
But the appointment provoked a backlash from Democrats.
Liberal New York Mayor Bill de Blasio tweeted: "Donald Trump's HHS pick makes it clear that he wants to take away health care from the aging and the poor. It will be up to us to stop him."