{[['
']]}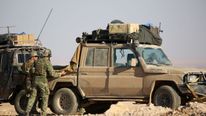 A US serviceman has died after being wounded in an improvised explosive device blast in northern Syria, officials have said.
The man was fatally injured near the town of Ayn Issa, the US military's central command said.
In a statement, Lieutenant General Stephen Townsend said: "The entire counter-IS coalition sends our condolences to this hero's family, friends and teammates.
"On this Thanksgiving, please be thankful that there are service members willing to take up the fight to protect our homeland from IS's hatef
ul and brutal ideology."