{[['
']]}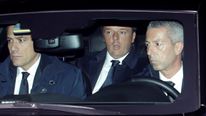 Italian Prime Minister Matteo Renzi has agreed to delay his resignation after a personal plea from the country's President.
A statement from the Quirinal Palace confirmed that Mr Renzi had told President Sergio Mattarella that it was not possible for him to continue in his post following a heavy defeat in Sunday's referendum on constitutional reforms.
However, President Mattarella has asked Mr Renzi to stay on until the 2017 budget has been approved by parliament, which will potentially happen later this week.
The statement said that Mr Renzi could hand in his resignation once the budget is passed.

He had staked his political future on the reform, which was aimed at weakening the powers of the upper house to help streamline Italy's notoriously lengthy legislative process.
It would have also cut down the number of senators and reduced the powers of regional authorities.
But he was attacked by his opponents, who described the reforms as dangerous for democracy.

The 41-year old former mayor of Florence told the country after his defeat: "My experience of government finishes here."
European leaders have been playing down the risks of any long-term fallout from the crisis in Italy.
Monday saw a slump in the euro, which fell sharply against the US dollar and hit its lowest level in more than four months against sterling.

The referendum defeat is good news for the Italian opposition headed by former comedian Beppe Grillo's populist Five Star Movement, which wants Italy to ditch the euro.