{[['
']]}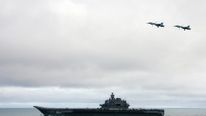 A Russian military jet has crashed as its pilot attempted to land on an aircraft carrier near Syria, an official has said.
The Su-33 Sukhoi plane was landing on the Admiral Kuznetsov in the Mediterranean, Russian news agencies reported.
The defence ministry said the pilot, who was on his way back from a sortie over Syria, ejected from the plane and is safe.
The ministry says in a statement that "because of the failure of the arrester system's cable, the Su-33 fighter rolled off the deck".
The statement added that operations over Syria would be unaffected as a result of the incident.
passed through the English Channel on the way to the eastern Mediterranean in October.
Another Russian fighter jet crashed into the sea off Syria while taking off from the Admiral Kuznetsov in November.
That pilot, who was flying a MiG-29K, also survived, Russia's defence ministry said.
The Kuznetsov is Russia's only aircraft carrier and is rumoured to be beset with reliability problems.

The ship's passage through the Strait of Dover, travelling with a task force including a battlecruiser, an anti-submarine ship and a destroyer, caused controversy.
The flotilla was met by several vessels from the Royal Navy as it passed within a few miles of the UK coast.

A Dutch submarine, which the Russians claimed was tracking their naval movements, was then chased away after the convoy entered the Mediterranean, according to Moscow.
Aircraft with the carrier's task force, which was eventually described by the Russians as "jointly carrying out tasks, manoeuvring to the west of the Syrian coast", were expected to join the Syrian bombardment of rebels in Aleppo.
Syrian activists said on Monday that Russian and Syrian aircraft have stepped up their assaults on the rebel-held province of Idlib, a day after air raids killed more than 60 people.